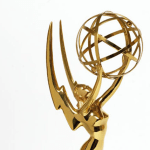 Afgelopen zondag werden de Emmy Awards weer uitgereikt en daar bleek dat Game of Thrones de grote winnaar was met twaalf Emmy's. De serie The People v O.J. Simpson wist ook vijf Emmy's mee naar huis te nemen.
De beste dramaserie is Game of Thrones.
Beste actrice in een dramaserie: Tatiana Maslany als Sarah, Alison, Cosima, Helena, Rachel, M.K., Krystal in Orphan Black.
Beste acteur in een dramaserie: Rami Malek als Elliot in Mr. Robot
Beste mannelijke bijrol in dramaserie: Ben Mendelsohn als Danny Rayburn in Bloodline
Beste vrouwlijke bijrol in een dramaserie: Maggie Smith als Violet, Dowager Countess of Grantham in Downton Abbey.
De beste komedieserie is Veep.
Beste acteur in een komedieserie: Jeffrey Tambor als Maura Pfefferman in Transparent
Beste actrice in een komedieserie: Julia Louis-Dreyfus als Selina Meyer in Veep
Beste mannelijke bijrol in een komedieserie: Louie Anderson als Christine Baskets in Baskets
Beste vrouwlijke bijrol in een komedieserie: Kate McKinnons als verschillende personages in Saturday Night Live
Beste miniserie: The People v. O.J. Simpson: American Crime Story
Beste televisiefilm: Sherlock: The Abominable Bride
Beste acteur in een miniserie: Courtney B. Vance als Johnnie Cochran in The People v. O.J. Simpson
Beste actrice in een miniserie: Sarah Paulson als Marcia Clark in The People v. O.J. Simpson
Beste mannelijke bijrol in een miniserie: Sterling K. Brown als Christopher Darden in The People v. O.J. Simpson
Beste vrouwlijke bijrol in een miniserie: Regina King als Terri Lacroix in American Crime